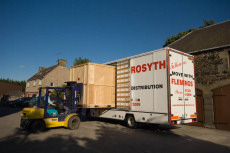 Storage Containers being loaded onto the lorry at our depot in Belleknowes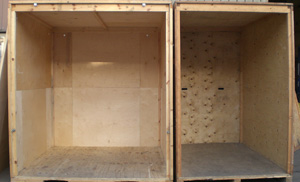 We use 2 different sizes of containers
We bring the store to you!
In our custom built container lorry we bring the storage crates to your door. Ensuring your furniture and belongings are handled as few times as possible.
All items are covered with protective furniture blankets and mattress bags and sofa covers are provided as standard
Once the crates are filled they are sealed at your door and not reopened until arriving back at your new property.
On arrival back at our depot they are stored safely and securely in our purpose built warehouse, which is covered by CCTV, security alarms and we live on site for added security.
We have a variety of storage options to cover special items including:
outdoor plants
house plants
Ladders
Large items
We welcome you to come and have a look at our storage facilities prior to moving!
How many containers do you need?
For more information call 01383 412009 or fill out our online quote form